HOUSEBOAT 2000

11th ANNUAL BULL SHOALS LAKE HOUSEBOAT TRIP!!!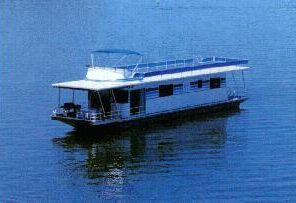 BOY DID WE LUCK OUT!! That weather was on everyones' mind Friday and Saturday! But the good Lord answered my prayers cause I was not looking forward to a 3 day spades tournament. I believe everyone had a good time and went away with some good memories! How 'bout them fireworks!!! We had 24 people aboard TWO HouseBoats along with two competition ski boats and a rented pontoon and SeaDoo. The weekend crew was there from Friday to Monday and then like recent years, my parents and two cousins from Kentucky came aboard for the rest of the week ... and RichS and KarenS stayed over an extra day before making their trek back to Atlanta.

As promised, here are the photos from the trip. Like last year they are broken up into several contact sheet style pages for faster loading and viewing. More will be added shortly. There will also be a page of pics from the Post HouseBoat Happy Hour to be held 11 August at the Forest Park Boathouse which is really a COOL place ... so don't miss it!
GO BACK TO TOP OF PAGE

Send email to:
LarryG

Last Update: 22 AUG 2005
Thanks for stopping by

!