HOUSEBOAT 2001: A LAKE ODDITY

12th ANNUAL BULL SHOALS LAKE HOUSEBOAT TRIP!!!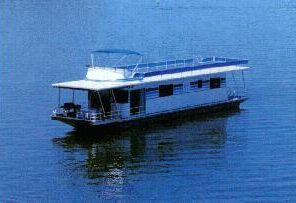 What can be said ... another great trip! I believe most everyone will agree that getting out of the dock on Friday evening was much better than waiting around till Saturday morning. Instead of meandering around till 0900 or thereabouts ... we were already tied up and ready to start playing. I think that will be SOP from now on. We had 25 people aboard TWO HouseBoats along with an entourage of other boats: three competition ski boats, a go-fast Baja, a rented pontoon and three jet skis!

The PIC pages have been filled but I do know of a couple more people who have not had theirs developed yet. When I get them, I will add them and send out another email notification to that affect.
GO BACK TO TOP OF PAGE

Send email to:
LarryG

Last Update: 22 AUG 2005
Thanks for stopping by

!